Спальные мешки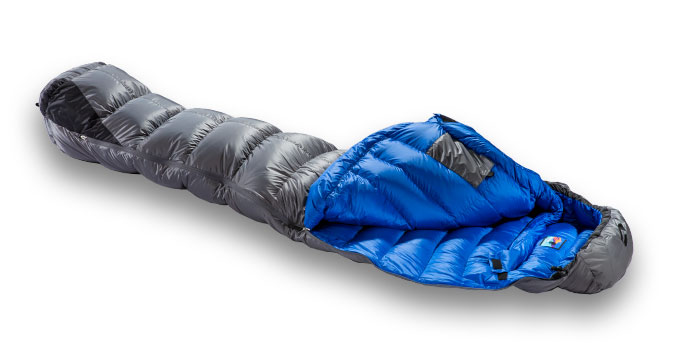 After a long day in the late fall, we all look forward to a well-earned rest in the camp, and to Chill Out. All that we need is to be comfortable and protected against the cold.
The concept of the Chill Out 450 RDS, is a mix of Valandre's high tech tubular construction, using pre-cut anatomical baffles, a proven technology from our goose down expedition sleeping bags, and our new RDS white European 90/10 800Cuin/US goose down.
RDS Label guarantee that DOWN used for this product is animal abuse free and has been managed in accordance with the "Responsible Down Standard (RDS)" for every process from farming and plunking to processing and ditribution.
результатами испытаний по EN ISO 23537-1:2016 PDF
Extreme :

-5°F

/

-21°C

Limit of comfort :

25°F

/

-4°C

Comfort :

33°F

/

1°C

With over 30 years of experience producing and supplying down products, our experience says -5°C (23°F) in limit of comfort.
Outside fabric :
100% Polyamide Nylon 6 Micro-Ripstop 40g/m2 DWR treatment
Asahi-KASEI
Inside fabric :
100% Polyamide Nylon 6 40g/m2 DWR treatment
Asahi-KASEI
Compartments :

18 continous compartments, using Valandre's second generation tubular technology of H-box wall pre-cut and anatomical shaped baffles.

Down quality :
RDS certified 90/10 White Goose Down


Куртка заполнена европейским белым гусиным пухом, сертифицированным по стандарту RDS 90/10, с упругостью 800+ (нормы США) и 750+ куб. дюймов (нормы ЕС). Высокое долговечное качество пуха с отличной влагостойкостью.
✔

METRIC

✔

IMPERIAL
S
M
L
Length(out)
200cm 78.7in
215cm 84.6in
230cm 90.6in
Размеры (внутри)
170cm 66.9in
185cm 72.8in
200cm 78.7in
Shoulder
159cm 62.6in
163cm 64.2in
174cm 68.5in
Hip
135cm 53.1in
139cm 54.7in
150cm 59.1in
Foot
97cm 38.2in
101cm 39.8in
111cm 43.7in
Сжатый объем

5.5 L

335 in3

6.0 L

366 in3

6.5 L

396 in3
Общий вес
804g 1lb 12oz
869g 1lb 14oz
952g 2lb 1oz
Вес наполнителя
412g 14.5oz
450g 15.9oz
488g 1lb 1oz