Спальные мешки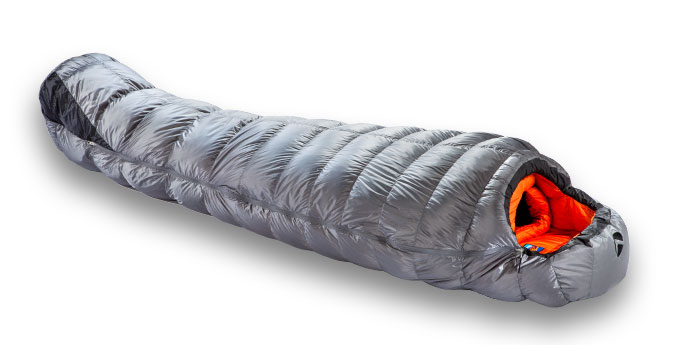 The great outdoors is not a 5 star hotel with a nice warm tub before going to bed… But a good nights sleep is within your grasp.
The Chill Out 850 RDS is a 4 season winter bag, designed to keep you warm and at the same time offering you exceptional comfort to just Chill Out in with a bit of wild weed and a book while you are waiting for the weather to settle down.
The concept of the Chill Out 850 RDS is a mixture of our high tech tubular construction assembled using pre-cut anatomical baffles, a well proven technology from our goose down expedition sleeping bag line.
To make this technique available to people not headed up K2 or Everest, we have filled this high tech shell, with our our new RDS white European 90/10 800Cuin/US goose down.
RDS Label guarantee that DOWN used for this product is animal abuse free and has been managed in accordance with the "Responsible Down Standard (RDS)" for every process from farming and plunking to processing and ditribution.
результатами испытаний по EN ISO 23537-1:2016 PDF
Extreme :

-40°F

/

-40°C

Limit of comfort :

0°F

/

-18°C

Comfort :

13°F

/

-11°C

With over 30 years of experience producing and supplying down products, our experience says -20°C (-4°F) in limit of comfort.
Outside fabric :
100% Polyamide Nylon 6 Micro-Ripstop 40g/m2 DWR treatment
Asahi-KASEI
Inside fabric :
100% Polyamide Nylon 6 40g/m2 DWR treatment
Asahi-KASEI
Compartments :

18 continous compartments, using Valandre's second generation tubular technology of H-box wall pre-cut and anatomical shaped baffles.

Down quality :
RDS certified 90/10 White Goose Down


Куртка заполнена европейским белым гусиным пухом, сертифицированным по стандарту RDS 90/10, с упругостью 800+ (нормы США) и 750+ куб. дюймов (нормы ЕС). Высокое долговечное качество пуха с отличной влагостойкостью.
✔

METRIC

✔

IMPERIAL
S
M
L
Length(out)
200cm 78.7in
215cm 84.6in
230cm 90.6in
Размеры (внутри)
170cm 66.9in
185cm 72.8in
200cm 78.7in
Shoulder
159cm 62.6in
163cm 64.2in
174cm 68.5in
Hip
135cm 53.1in
139cm 54.7in
150cm 59.1in
Foot
97cm 38.2in
101cm 39.8in
111cm 43.7in
Сжатый объем

10.5 L

640 in3

11.0 L

671 in3

11.5 L

701 in3
Общий вес
1.28kg 2lb 13oz
1.35kg 2lb 15oz
1.45kg 3lb 3oz
Вес наполнителя
811g 1lb 12oz
850g 1lb 13oz
889g 1lb 15oz